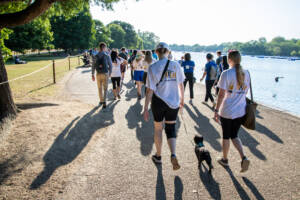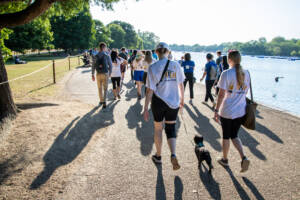 The 19th annual London Legal Walk took place on 13 June, with over 16,000 walkers taking to the streets, which makes it the most well-attended Walk in its history. The 10km Walk raises vital funds for advice agencies in order to offer access to justice for all, and the legal profession certainly showed their support.
Gathering in teams ranging from a few to hundreds, Carey Street was alive with excited walkers ready to take on the challenge and show their solidarity in the sunshine. There were also a lot of four-legged supporters and fancy dress to accompany walkers!
A solicitor from Hammersmith & Fulham Law Centre said: "What a brilliant event yesterday! So many people were walking it was definitely the biggest and best ever- everyone was saying what a fabulous day it was."
Also on the Walk were lead walkers, the Lord Chancellor, the Lord Chief Justice and the Master of the Rolls, the Attorney General, the Treasury Solicitor, the Director of Public Prosecutions, the President of the Law Society and the Chair of the Bar Council, the vice President of CILEX, as well as other high-ranking judiciary.
Law Society of England and Wales President, Lubna Shuja, said: "It was wonderful to join so many others taking part in the London Legal Walk to raise funds for free legal advice charities.
It's inspiring to see the legal profession come together in huge numbers to show their support for such a worthy cause. It is important that free legal advice is available to vulnerable people who need it most. The funds raised by the London Legal Walk help to ensure there is provision for access to justice for all."
The fundraising amount is currently at £860,000 and rising, which has surpassed last year's total of £720,000. London Legal Support Trust are encouraging teams to keep fundraising, particularly when the need is greater than ever. 700,000 families in London are estimated to be living in poverty (Sustain report, 2023). Yet, while need is increasing, capacity is decreasing. Specialist advice agencies have been hampered by underfunding, as their costs have increased dramatically, and by reducing numbers of social welfare law specialists. This is due to a workforce shortage in the advice sector and challenges of recruiting new people into an underfunded sector.
This is why the funds raised from the London Legal Walk are so fundamental to the sector and have real-life impacts for those in need. The scenes on 13 June were testament to the power of collective action and working in tandem to respond to the changing social landscape.
If you would like to support London Legal Support Trust's work in supporting access for justice, you can make a donation. You can also spread the word about this vital work and get involved with one of London Legal Support Trust's upcoming events.