London Legal Walk 2023 – Drinks
Thank you so much to our wonderful drinks sponsors for supporting the London Legal Walk:



Every walker will receive a drinks voucher on the day of the London Legal Walk, which can be submitted to the bar for a soft drink, beer or small glass of wine courtesy of the London Legal Support Trust in The Last Judgment, Old Bank of England or the Law Society.
You can donate your drinks voucher back to the London Legal Support Trust to help raise an additional £3,000 for legal advice charities, with our drinks sponsors donating £1 for every drinks voucher donated back. Ticket collection buckets will be on every bar for you to drop your token in, or you can hand them back in at the registration desks.
You can also exchange your drinks token for a bottle of delicious vitamin water courtesy of Get More Vits, who are delighted to be supporting the London Legal Walk again this year. Look out for them at the street party and at the water stops in the parks.

The Last Judgment
The Knights Templar has been acquired by Berkeley Inns.
We're delighted to introduce you to The Last Judgment, the new name and format for the landmark pub previously known as the Knights Templar. Our Chancery Lane venue features casual fine dining in an a la carte restaurant, a bar menu, an excellent draft beer selection, bespoke cocktails, fine wines, Weekend DJs and live music. Our mission is to take the 'London Pub' to a new elevated level creating unforgettable social experiences for all with every detail handled with care and passion. We look forward to welcoming you soon…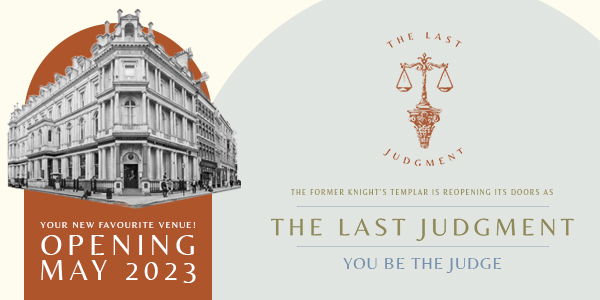 Support access to justice and join our fundraising events