There is a legal aid crisis. Between 2005 and 2018, 56% of all legal aid providers were lost, and the proportion of not-for-profit providers fell by a staggering 64% over the same period. The impact of legal aid cuts, combined with local government spending cuts and other funding changes, has been estimated to take over some £100 million annually out of the advice economy in England and Wales.
There is little funding available for many of the problems which have a significant impact on people's lives, such as; claiming the welfare benefits to which they are entitled; employment disputes, concerning a wide range including pay, conditions of work, harassment and bullying; immigration issues, which force people to live apart from their loved ones; discrimination in accessing goods and services; housing including homelessness advice and many disrepair cases, and community care support to give people the best possible quality of life.
Read more about the people supported by LLST's work across many areas of law in our case studies
"[We are helping] a whole new group of people who have never experienced poverty, been unemployed or had to claim benefits but have been suddenly plunged into hardship."

Patrick Marples
South West London Law Centres
Now, the spread of COVID-19 and the ensuing lockdown has meant that advice agencies, who were already fighting the threat of closure, are now facing an increase in demand, without the resources to meet it. Many people are dealing with serious issues in the areas of housing, employment, debt, and benefits, and need urgent legal advice to address them. Already battered by budget cuts, these agencies are less able to survive the disruption caused by COVID-19. It is estimated that up to half of advice agencies face the threat of closure, leaving communities with nowhere to turn.
LLST offers support to a wide range of not for profit advice and legal services, which provide a key route to access for justice for people with these and related problems, which can affect any of us, every day.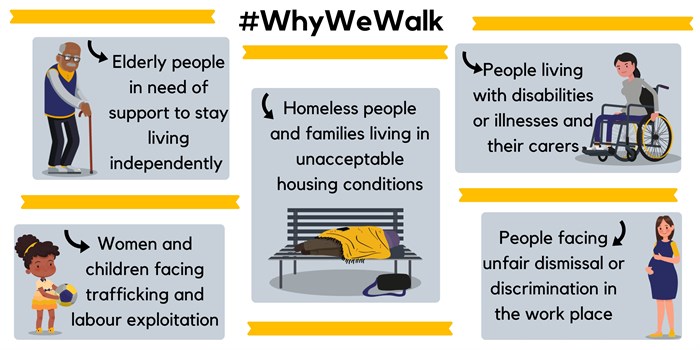 FAQs about Who We Help
Why is keeping free legal advice going so important?
admin
2020-07-13T02:24:11+01:00
Community legal advice services are important as they help the most vulnerable individuals and families to be treated fairly. They help over 2 million people every year receive protection, shelter & education. For over 60 years legal and advice services have been helping local people to help themselves.
If someone does not get help early in a problem, it will only become more complex, harder to resolve and more costly. The right advice early on can save £10 for every £1 invested and keep families together in their homes, and in work and education.
Up to two-thirds of the population are unaware of how to get the legal services they need, and nearly 70% have no knowledge of basic legal processes. Less than 50% of young people facing serious problems, for example in housing and education, get the advice they need.