Registration is now closed for the Guildford Legal Walk 2020.
Thank you so much to everyone who took on 10km for justice! Together you have raised £6,500 so far for local advice agencies in Surrey, including the funds raised by some teams in the 10,000 Steps for Justice event in June.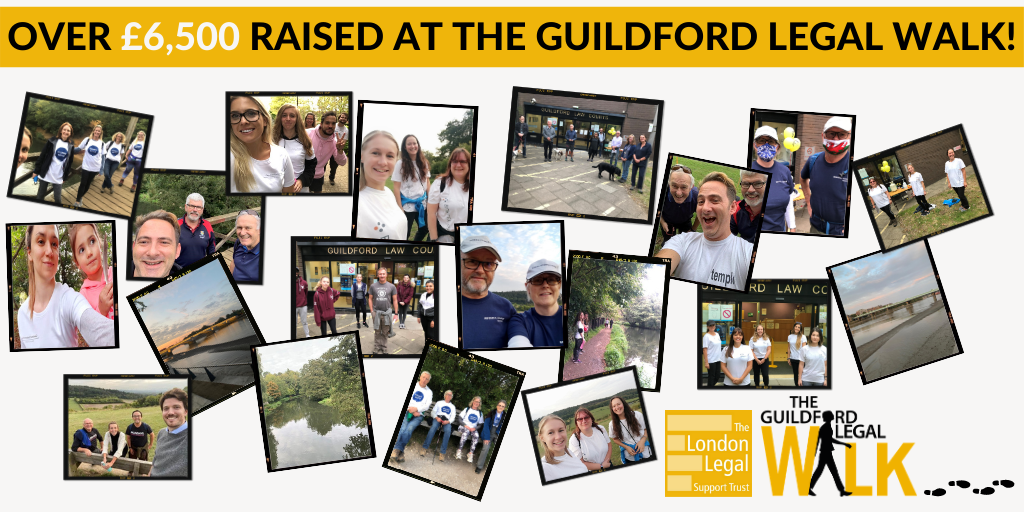 The Guildford Legal Walk is a 10km sponsored walk through the Surrey countryside.
Due to social distancing measures, this year teams walked in groups of 6 or less walkers, with no set start or end venue. Teams started wherever and whenever convenient for them on the route. In addition to walkers walking the route, those who could not get in to Guildford were invited to join their team anyway and walk their 10k wherever they are.
Why We Walk
The important thing is that we raise as much as possible for the advice agencies who are struggling to maintain services with the increased challenges created by COVID-19 and lockdown.
The number of people seeking help with Debt, Benefits and Employment has increased dramatically since the start of the pandemic. Those seeking help with Domestic Violence has also risen sharply and, in September, when the stay on evictions is lifted there will be a "tsunami" of people facing homelessness.
Taking part in the Guildford Legal Walk raises vital funds for South West London Law Centres.
Guildford Legal Walk 2020 Teams