2.6 Challenge
Thank you so much to everyone who took on their own 2.6 Challenge on Sunday 26th April in support of free specialist legal advice services! We are delighted to have raised over £3,700 so far. 
Check out the efforts of our Home Heroes by watching our video here!
As a result of the ongoing situation with Covid-19 and the cancellation or postponement of mass events, many charities across the country – and the services they support – have been forced into working with a severe decrease in funding at a time when they are needed most.
The organisers of the biggest mass participation sports events across the country have therefore come together to create a new campaign – the 2.6 Challenge – to raise vital funds and help to save the UK's charities.
In terms of our work at the London Legal Support Trust, there has been a significant rise in Emergency Funding applications from advice agencies as they deal with the current crisis. Fundraising for free legal advice services is, therefore, more critical than ever if agencies are to continue doing such a fantastic job in preventing homelessness, resolving debt problems, gaining care for the elderly, and fighting discrimination and exploitation.
What is the 2.6 Challenge?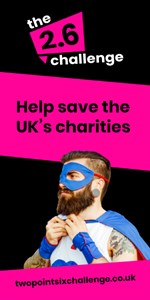 The 2.6 Challenge begun on Sunday 26th April 2020, which would have been the date of the 40th London Marathon. Anyone can get involved, no matter what age – even your pets can play their part!
You could run, skip or walk 2.6 miles, 2.6km or for 26 minutes in your home or garden. You could walk your dog for 2.6 miles. You could juggle for 26 minutes or complete a 26-minute exercise class. You could get 26 people on a video call to do 26 star jumps or hold a plank for 26 seconds or 2.6 minutes (156 seconds!). Or if exercise isn't your thing, why not bake 26 cupcakes, complete a 26-question quiz or get your pet to perform 26 tricks.
Can't decide what challenge to take on? Click here to discover 26 ways that you could take part and become a Home Hero.
Whilst there are no specific rules surrounding the 2.6 challenge you choose, please, of course, ensure that you adhere to the current government guidelines around social distancing when taking part.
Join Team LLST!
Thank you so much to everyone who took on their own 2.6 Challenge in aid of access to justice on 26th April, from running and skipping to badminton and backflips! Our list of Home Heroes includes:
Alistair Nightingale – 260 backflips on the trampoline (in 26 minutes)
Lynda and Tom Nightingale – 260 shot badminton rally
Bob Nightingale – walking 2.6km
Amanda Illing – 260 hula hoops
Florence, Russell and Ivo Garnham – cycling 26 kilometres
Rosa Coleman – 26 minutes of yoga
Adam Hicks – 260 push-ups (in 26 minutes)
Pip Hicks & Mark Williams – skipping 2.6 kilometres
Melissa Garnham with Stanley and Wilbur – 2 dogs, 26 minutes of tricks
Colin Garnham – 2.6 minutes walking with sticks
Hilda Garnham – 26 minutes pushing Colin in the wheelchair
Nezahat Cihan – 26 minutes of mat Pilates
Nicole Lilauwala – 26 minutes of Zumba
If you would like to sponsor our efforts, it is not too late! Simply head to virginmoneygiving.com/LLST26Challenge – every donation will help us to continue supporting vital free frontline legal advice services across London and the South East through this difficult time.
Want to create your own fundraising page?
If you, your family or your organisation are taking on a spectacular 2.6 Challenge and would like your own fundraising page, simply click here  – this will allow you to set your challenge page up in support of the London Legal Support Trust within minutes.
Share your efforts!
Whether you joined our team effort or have gone solo, make sure you share your fundraising page with friends, family and colleagues and get them involved in raising essential funds for access to justice.
Whatever your 2.6 Challenge might be, be sure to share your efforts on social media by posting a photo or video, tagging us and using #TwoPointSixChallenge! We can't wait to see what you're getting up to.